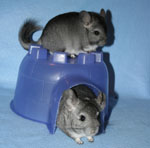 ChinchillaRescue.Org is a rescue group founded and run by California Chins.
Many chinchillas are being lost, abandoned or turned in by owners no longer wanting or able to care for them. We take care of their physical and emotional needs so that they may find happy, loving, forever homes.
Our goal is to provide information to people interested in adopting rescued chinchillas, as well as to those who may have or know of a chinchilla who needs a new home. Our main rescue locations are based in the San Francisco Bay Area, but we have a growing list of other chinchilla rescue organizations around the world.