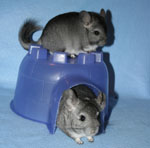 October 2018
As most people may know, we are a very small, all volunteer rescue organization. The rescue was founded in 1977 and has never turned away a chin in need. For the first time in our history, we are experiencing circumstances beyond our control that are altering our service availability as detailed below.

Rescue Intake
We are unable to take in any new rescues from October thru early November 2018. If you are unable to care for your chin(s) until early November, please contact your local animal rescue.

Adoptions
Adoptions may still be available by appointment only. Regular adoptions will resume in November. To make an appointment call (805) CHINS-88. If no answer, please leave name, phone number and e-mail. Emails may also be sent to cachins88@gmail.com. Please be patient with replies.

Your Help is Greatly Appreciated
We welcome volunteers that could foster chinchillas. We have a number in baby watch that will need care for 4 to 6 months. Also some special needs chins, some elderly chinchillas as old as 23 years and some young chins as young as 8 months that could really appreciate some extra attention in foster care. Rescue would supply chin food and if needed chin medical care. Call (805) CHINS-88 or email cachins88@gmail.com if you can help.

We appreciate your patience and support during this challenging time and look forward to returning to providing full services in November.