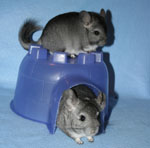 Your Help is Greatly Appreciated
We welcome volunteers that could foster chinchillas. We have a number in baby watch that will need care for 4 to 6 months. Also some special needs chins, some elderly chinchillas as old as 23 years and some young chins as young as 8 months that could really appreciate some extra attention in foster care. Rescue would supply chin food and if needed, chin medical care.
Call (805) CHINS-88 or email us if you can help.
** Sorry, we have no community service volunteer opportunities at this time.