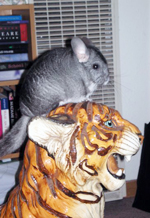 Choo Choo, on the tiger that belonged to Shelby's grandmother. Choo Choo loved to be up high, and the tiger was her favorite perch.
In loving memory of Choo Choo. She lived to the age of about 7 years old with her human mom, Shelby. Her absolute favorite things were Cheerios and pasta of any kind. She began to associate the sound of a crackling bag with Cheerios, and would run across the room and stand on Shelby's foot until she gave her a treat. Once she broke into the cupboard and found an uncooked manicotti noodle and hopped with it back to her cage! She wasn't terribly social but loved being scratched behind her ear. She also loved to run through a poster-shipping tube.
Choo Choo will be missed.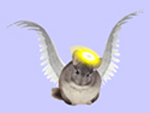 In memory of Critter and Maki, who died in August 2008. Two rescues that were too ill for us to save.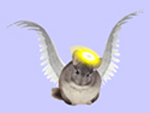 In memory of Daisy, who we didn't get to know until it was too late to do anything for her except put her out of her pain.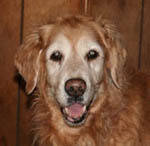 We are sad to announce the passing of Rosie, the much loved dog of Lani and Merrilyn Ritchey. No one adopted a chinchilla from CA Chins without first meeting the approval of the golden retrievers, Rosie and Tana. Rosie greeted everyone at the door with a stuffed toy in her mouth. She was also our chinchilla "search" team. If a chinchilla escaped, Rosie would find and corner it until we could catch it. All of us at California Chins will miss Rosie.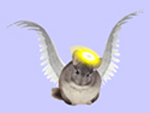 Chile (8 years old) and Blinky (4 years old) always loved and never forgotten.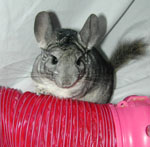 In loving memory of JJ, a much loved chinchilla, that is missed by his boy, Sean, and those of us at CA Chins that knew and loved him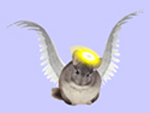 In memory of Willie, beloved companion of Jacey and Amit, a donation was made to our rescue group with love from Salo and Lisa.