Chance and Family
.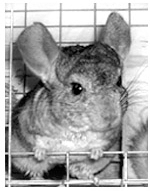 Chance was named for the unknown odds as to whether he would survive all of his medical ailments from improper care and abuse. This is the story of his poor family. They were turned in through a humane society that did not know how to care for them. Chance's cage mate Misty was a mother to 3 kits or baby chinchillas. One died three days after it was born. They were all turned into Rescue when the babies were only 6 days old. They were some of the filthiest chinchillas that have ever been turned into us. They got immediate water baths to remove urine, caked on cage litter and feces. Both parents had broken teeth making them unwilling to eat due to pain. Misty had been hit in the mouth causing the break of her incisors. This was possibly due to fighting with Chance since they both had chewed up ears.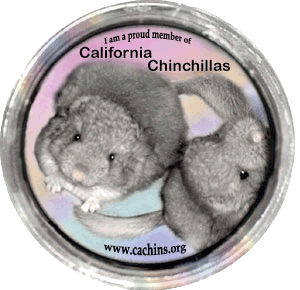 Misty was trying hard to nurse the kits, but she was lacking the essential body fat to nurse healthy offspring. She was starved to the point that the bumps of her vertebrae shown through her fur. The babies were biting her and causing damage to the breasts because she didn't have enough milk. She developed a bad case of mastitis (breast infection) which caused further weight loss and required daily injections of antibiotics. With two dental visits, hand feeding and patience she recovered to be a nearly 700 g. female. She now lives in Northern California. Her owner is a small dog breeder who recently reported she is doing well. She was named Misty and even has her own little 6 inch television to keep her company in the living room.

The kits were named Sunshine and Drizzle. Sunshine went to live with a young woman as a replacement for an elderly chin that died. Drizzle went to a first time chinchilla owner. They are both happy and doing well.

Chance was not "out of the woods" yet. He was only 360 grams, which is about half the size a healthy adult male. Aside from broken teeth he suffered from his genitals hanging out due to fever and potentially infection from the unsanitary conditions. After two weeks of critical treatment, his genitals returned to normal. However, he was still under weight to the point that the dentist was scared he would die under anesthesia. We had to get his body weight above 400 g. before he could possibly survive the necessary dental work. It would still be touch and go. He got as low as 352 g. during his stay with us. All four of the chins were hand feed every few hours for over a month. Chance was hand fed almost four months and sporadically since then. We finally got his weight up to 420 grams and stable. We took him to the dentist and she said he had corrected his own teeth by grinding them properly on manzanita and other wooden toys.

With his dental problems resolved, Chance was gaining weight well. Then he developed an allergic reaction to something, which we suspected may have been dried strawberries. He had hives bigger than the tip of a human thumb. He was treated for his allergies for eight weeks before the hives were gone. He had sporadic bouts of diarrhea but he was a fighter and unwilling to give up. We got his weight up more than another 100 g. and stable for four months then found him a suitable new owner willing to take on a challenge. Dental problems tend to come back and with the diarrhea we assumed he had giardia (intestinal parasite). Months after being adopted he finally tested positive for giardia, after 3 vet visits in nearly a year before it was discovered.

We are happy to say he is still living after the past year of ups and downs. He was renamed Chaz and is caged with a sweet boy named Chuchi. He is still skinny but healthy, happy and very friendly.